The 7 best Human Resources software
The human resources department is one of the most important for the company to function properly. This is responsible for organizing, planning and managing the different tasks and actions that are related to the company and the staff.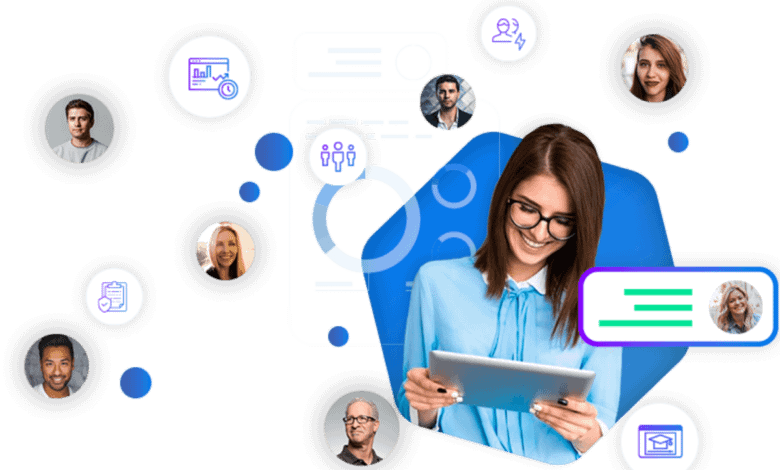 What does the human resources department of a company do?
The human resources department of a company is one of those that carry out the most tasks. Human resources is in charge of everything related to the  organization, planning and administration of the tasks related to personnel  —such as training and hiring new workers—. The purpose of this department is to search for candidates, organize and motivate employees. Their role is of vital importance, bearing in mind that the company's staff is the entity's most important resource. In addition, it must be taken into account that human resources is responsible for finding and keeping the best professionals so that the company gives its best.
Functions of the human resources department
The human resources department has a large number of functions related to the search, training and motivation of employees. These are the most outstanding:
Personnel planning : The first of its functions is personnel planning. This department must determine what the needs of the company are, as well as what type of contracting should be implemented and what are the most appropriate profiles for the entity. You should also estimate what the cost will be.
Selection of the personnel : It is, possibly, the best known work of this department. This function aims to find the best profiles to be part of the template. To do this, you must carry out different tasks, such as the publication of offers in certain specialized portals, conducting interviews and even tests.
Recruitment of personnel : Once the selection period is over, human resources must be in charge of hiring the personnel. To do this, you must provide a contract to new employees and register them with social security.
Management of payroll and vacations : Another of the most important functions of this department is the management of payroll, which is sent monthly —or weekly, depending on the type of contract— and the management of days off, leave and Company staff vacations.
Manage faults : This is another of the measures that the department must take care of. You must evaluate the faults and sanctions of the staff, request the supporting documents, apply discounts on the salary, notify the workers…
Evaluation of work performance : The human resources department also has the main function of evaluating the professional performance of the hired personnel, as well as motivating them in case of detecting a drop in performance and taking measures if necessary.
Training : For the company to be up to date in its field and for the staff to be able to promote in their professional career.
The 7 best human resources software
The human resources department carries out a large number of activities on a daily basis, in fact, this department can be structured into various profiles —depending on the size of the company—. Examples of them are the director of human resources, the personnel selection technician, the recruitment consultant, the training technician, the ICT technician and the internal communication technician, among others. Each of them has certain general and specific functions, which is why it is so necessary to use human resources software. Next, we explain what are the main software that we can find.
1. Bizneo HR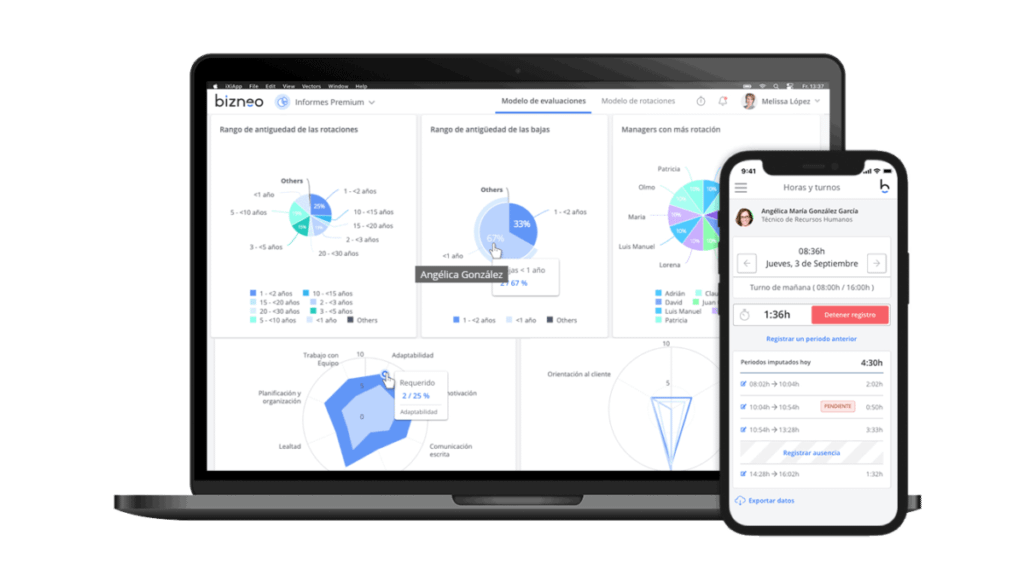 Bizneo HR is one of the best Human Resources software that we can find today in charge of  simplifying and unifying all the tasks of the human resources department in one place. This software is customizable, which means that functions can be contracted based on the needs of each company. 
With Bizneo HR you can work on talent management which involves the recruitment and selection of personnel, performance evaluation, conducting surveys and training management, but also personnel management which means offering a portal of the employee and another of the manager, an employee database, a business organization chart, document management and human resources reports and, finally, time management which makes it easier for professionals to manage vacations and absences, as well as carrying out a control of the schedule and the management of shifts, among others.
Bizneo HR software is very easy to implement. In a short time it is possible to digitize the department to start managing all functions online.
Among the characteristics of the Bizneo HR human resources software, the excellent customer service offered by the developer company stands out, the positive user experience, great data security —thanks to modern cybersecurity measures, the large amount of materials available that they make available to users and how easy it is to implement anywhere.
2. Lucca HR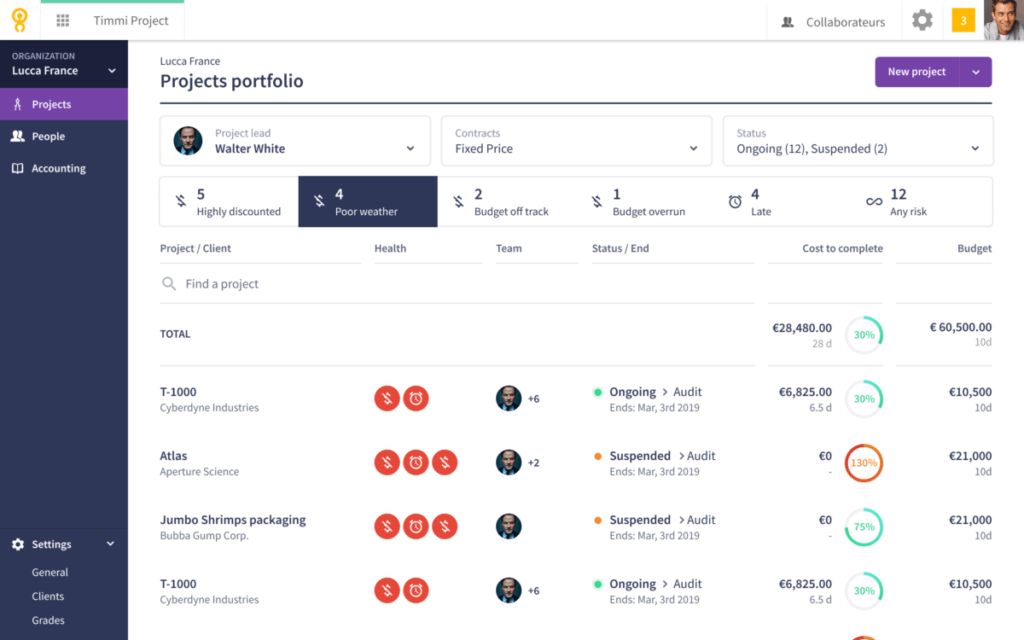 We continue, now, with Lucca HR. This software is designed to  simplify and automate the management of all processes . In fact, it has a total of 8 management software that cover the different needs depending on each company. These are Figgo for vacations and absences, Timmi Time for time management, Timmi Project for project profitability, Cleemy to record expenses, Poplee Core HR for personnel management, Boom at Work to carry out job satisfaction surveys, Poplee Evaluation and Objectives to manage performance, Poplee Remuneration to manage compensation and Pagga for payroll distribution. As you may have noticed, it is a  very complete and customizable tool .
With Lucca HR it is possible to automate all HR management processes, offering an excellent quality of operational response.
This human resources software is efficient and simple, it is very easy to use. In addition, each Lucca solution responds to a specific need of the department. The software is designed based on this,  taking into account the specific needs of each company . This tool is designed for both small and medium-sized companies, as well as large corporations.
3. Workday
This program is a solution both to  manage the functions of the human resources department, as well as the finances of a company and its planning  . It offers desktop software, as well as the opportunity to work in the cloud online and without the need to install anything.
Workday is a human capital management system that adapts to change.
In it we can find several modules related to HR functions, such as recruitment, talent management, salary compensation and benefits, payroll, time control and training, among others. It allows developing a talent strategy based on skills, offers experiences that involve everyone, people analytics to guide their decisions, automation of tasks to reduce the workload and flexibility to establish the appropriate compensation, among others.
4. Oracle HCM Cloud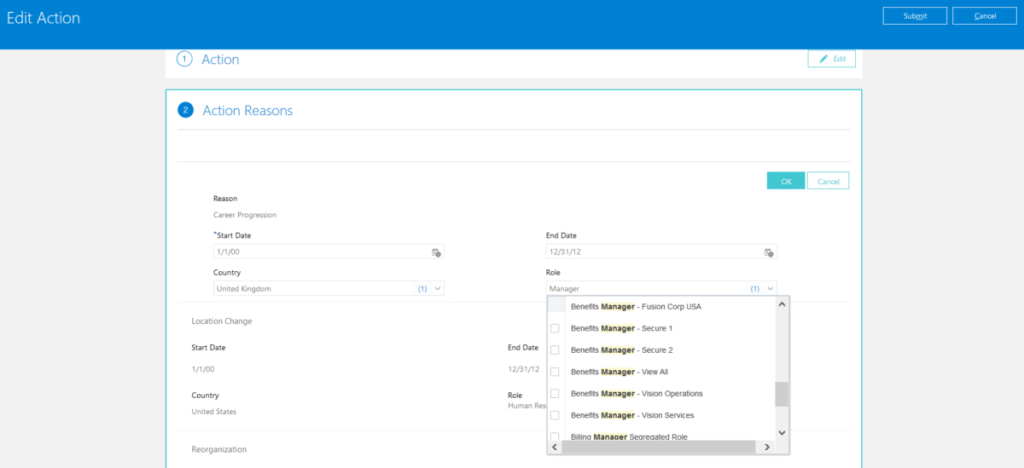 Oracle HCM Cloud is a human resources software with a history of more than a decade, so it has laid its foundations well and knows exactly what the user is looking for. It is primarily geared towards company talent management , encompassing both current and future employees, and of course talent acquisition and recruitment. It has solutions adapted to both small and large companies and easily adapts to the needs of the company, facilitating the entire staff recruitment process.
Its functions, in addition to speeding up the hiring of new employees adapted to what the company is looking for in order to get workers who grow in it, also include the automation of all training processes for employees and the supervision of their growth to evaluate their performance, also facilitating the contracting process itself. Although it is true that it lacks some aspects more oriented to the daily management of some tasks, when it comes to attracting talent it is one of the best software that exists today.
5. Meta4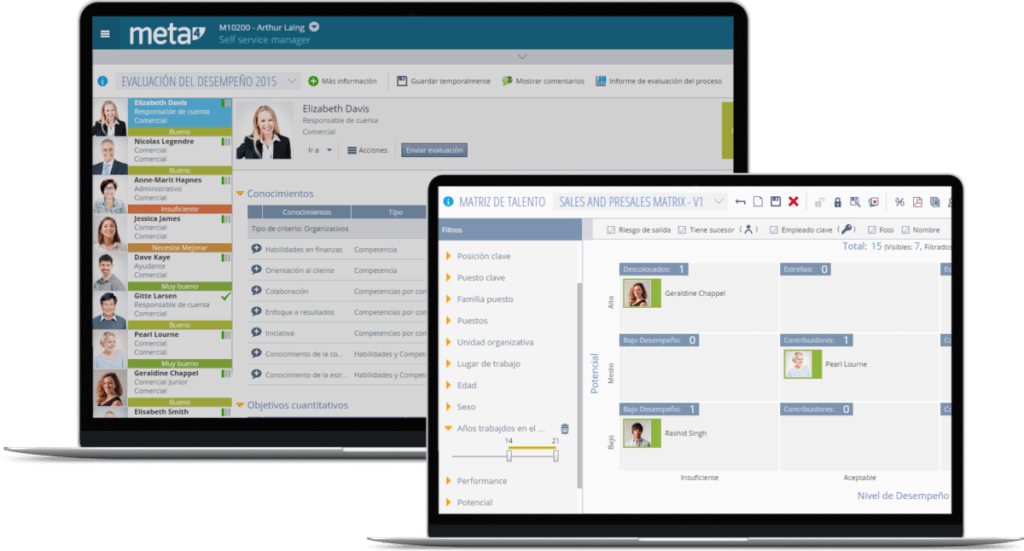 Formerly known as PeopleNet, Meta4 is a complete, comprehensive and multifunctional human resources software aimed at covering all the necessary aspects of human resources management, thus providing tools and functions necessary for the proper functioning of personnel management. Three of the pillars of its tools lie in the selection of personnel, the evaluation of performance within the company and the management of training processes . In other words, although it is aimed at managing everything necessary for the human resources department, one of its strong points is undoubtedly the recruitment and administration of talent.
In addition to this, among its functions you can find the management of compensation and remuneration for payroll, employee time control and generating a specific period of time to perform certain tasks, thus achieving a more efficient management of the departments. In addition, it provides employees with a virtual space in which to interact in order to deal with necessary day-to-day aspects from a single platform, in a comfortable way. Its price is linked to employee and month, so it can vary, and all the software is accessible from the cloud.
6. Talentia
Finally, we end this selection of the 7 best software for human resources as one that has carved a niche in its own right within this sector. We are talking about Talentia Software , a software oriented not only to the management of the human resources department of a company, be it large or medium, but also for the financial departments of the companies . It has various functionalities, all of them aimed at covering all areas of both departments, and its objective is to simplify and streamline the financial and human resources actions of the company.
There is no area of ​​the human resources department that Talentia Software does not cover, and on its own website we can appreciate this reality. Without going any further, it makes available to its potential clients the list of tools that it guarantees within its software, from the organization of employees, feedback and performance evaluation or talent acquisition, to payroll management, employee training and the availability of a portal for the employee that is managed directly from its platform. It is easy to use, intuitive and has an affordable price considering that it is mainly aimed at medium and large companies.
Human Resources Department Profiles
The human resources department has several profiles to structure the different functions they are responsible for. These are:
Human Resources Director : Responsible for developing and implementing staff effectiveness policies, seeking a balance between their skills and experience, and giving them the opportunity to improve their position within the company.
Personnel selection technician : They are the ones in charge of looking for talent, developing different strategies for it.
Personnel Recruitment Consultant : It is the personnel selection technician who works independently. That is, it is not part of the company, see for example the ETT's.
Personnel Training Technician : Deals with the professional development and learning of employees. To do this, it implements different strategies and analyzes the company's weaknesses that need to be strengthened.
ICT Technician : Responsible for designing training programs on new information and communication technologies.
Internal communication technician : He is in charge of implementing different projects for his department. To do this, he writes internal publications, organizes communication spaces, defines internal communication campaigns and provides relevant information and news to his colleagues.
You may Like also: Top 8 best graphic design software for professionals