Court documents suggest that the CFO of Bed Bath & Beyond Gustavo Arnal was involved in an insider trading and fraud conspiracy only days before his death
The Bed Bath & Beyond executive Gustavo Arnal who fell to his death from the 18th story of a Manhattan building on Friday was recently accused of fraud in a lawsuit. According to Insider, Gustavo Arnal, the CFO of the home products firm, passed away at a time when his company was enduring serious losses due to the Covid-19 outbreak and this year's high inflation.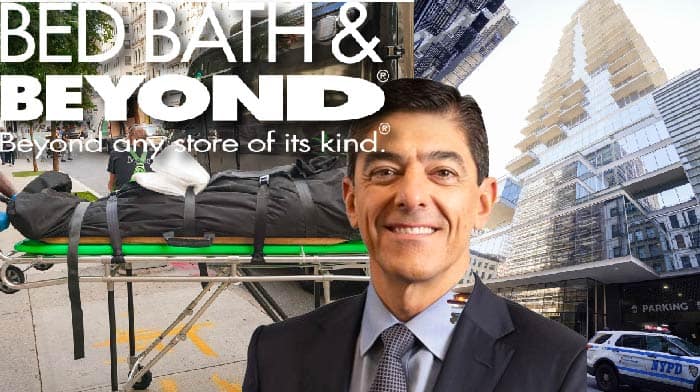 According to court records acquired by The Independent, he was named in a federal class-action complaint alleging federal securities fraud, insider trading, and breach of fiduciary responsibility less than two weeks ago.
The complaint is filed as the firm prepares to liquidate 150 of its 900 locations and lay off 20 percent of its corporate workforce.
In the lawsuit, Mr. Arnal is listed alongside activist investor and GameStop chairman Ryan Cohen.
They are accused of conspiring to increase the price of Bed Bath & Beyond's publicly listed shares using deceptive means.
The lawsuit, which was filed on August 23 in the United States District Court for the District of Columbia, alleges that the defendants made "materially false representations about the financial condition and holding status" of the home goods firm for their own financial gain. The plaintiff named as Pengcheng Si is an investor.
The complaint states, "Knowing that the information they disclosed was false, the defendants took advantage of the inflated stock price and used fraudulent and misleading SEC filings to sell all of their [Bed Bath & Beyond] shares and options at artificially inflated prices to unwitting and innocent public investors, and then retained control of the profits."
Mr. Arnal and Mr. Cohen both sold shares of the business on August 18; Mr. Arnal sold more than 42,000 shares for an estimated $1 million, while Mr. Cohen sold his whole 9.8 percent ownership via his firm, RC Ventures.
The company's stock price subsequently collapsed.
According to the complaint, Mr. Cohen, co-founder of Chewy and chairman of GameStop, allegedly contacted Mr. Arnal in March 2022 about his "pump and dump" plot and "convinced Gustavo that their plan would be mutually advantageous" by coordinating their share sales to maximise profits.
JPMorgan is also included as a defendant in the lawsuit because to allegations that the bank facilitated the transactions and "otherwise laundered the profits of their illicit activity."
The complaint says that Mr. Cohen has participated in similar "pump and dump" schemes in the past, including as upgrading GameStop to "meme stock" status to acquire desperately needed financing.
Wednesday, investors were informed that the business will move its emphasis from its own brands to selling other names. In addition, they were informed that the business had acquired funds from Sixth Street Partners and JPMorgan to ensure its continuing functioning.
Bed Bath & Beyond has had a turbulent year, as have many other businesses in the aftermath of the epidemic and during times of high inflation.
According to Insider, CEO Mark Tritton was fired in June after the firm recorded two consecutive quarters of severely poor revenues. Sue Grove, who previously served on the company's board, succeeded him.
The fact that the business's public market shares became something of a "meme stock" — often a sign of price volatility as internet traders hop on and off the bandwagon — further contributed to the financial instability of the company.
Reuters reports that police responded to a 911 call on Friday and discovered a 52-year-old man dead near the "Jenga" skyscraper at 56 Leonard Street in Tribeca. Mr. Arnal was identified as the individual who "looked to have suffered injuries from a fall."
The New York City Medical Examiner's Office will establish the cause of Arnal's death, according to a police statement sent to a news agency.
Sunday, Bed Bath & Beyond published a statement.
"I like to convey our deepest sympathies to the family of Gustavo. All of Gustavo's coworkers will remember his leadership, skill, and care of our company. Harriet Edelman, Independent Chair of Bed Bath & Beyond Inc's Board of Directors, stated, "I am pleased to have been his colleague, and he will be sorely missed by all of us at Bed Bath & Beyond and everyone who had the pleasure of knowing him." "Our emphasis is on supporting his family and his team at this difficult time, and our thoughts are with them." Please join us in respecting the privacy of the family."
Prior to joining Bed Bath & Beyond, Mr. Arnal served as Avon's chief financial officer and spent two decades at Procter & Gamble.
Read Also: The CFO of Bed Bath & Beyond died only days after the firm announced huge closures and layoffs