Joey Chestnut Hot dog champ does it again, and this time it's even better
In order to win the Nathan's Famous Fourth of July hot dog eating contest for the 15th time in his career on Monday, Joey Chestnut had to overcome a competitive field that was already rather full as well as an injury to his right leg. He was also successful in overcoming an unforeseen challenge that arose in the middle of the competition in the shape of a stage-crashing protestor.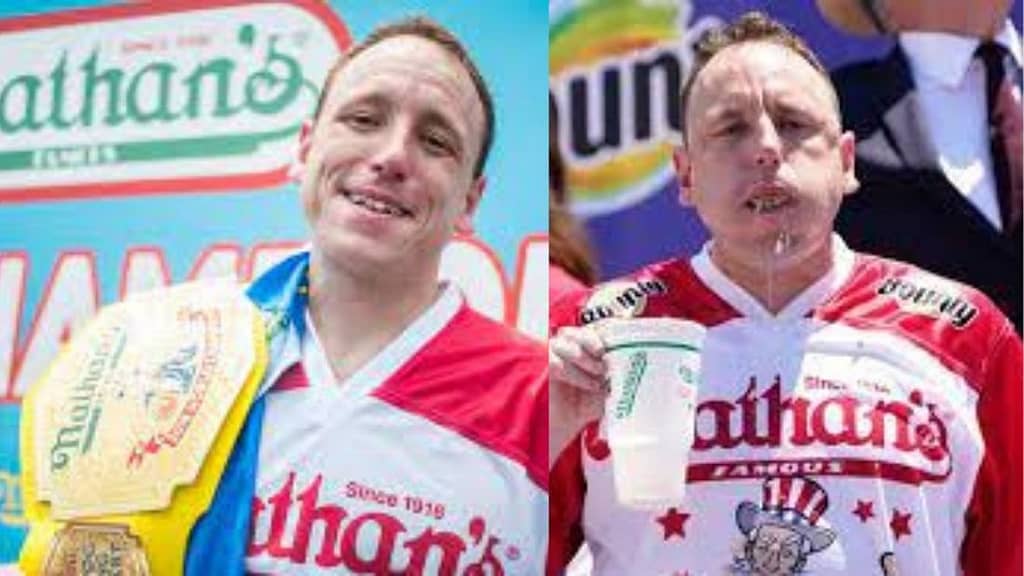 Shortly after he took down his 17th dog, a group of demonstrators rushed the platform while dressed in Star Wars attire and waving posters that said "Expose Smithfield's Death Star." This was apparently a demonstration against the pig company Smithfield Foods. Chestnut has no desire in breaking his rhythm in any way, shape, or form. Instead of asking the event security staff for assistance, he took care of the problem on his own.
Before continuing with the hot dog eating process, Chestnut placed the protestor in a headlock and then swiftly tossed him aside. In the end, he was able to consume 63 hot dogs during the course of the day.
Chestnut has been victorious in the long-running competition held on Independence Day seven years in a row, as well as 15 of the previous 16 years. He was able to consume 15 and a half more hot dogs than his closest opponent, Geoffrey Esper, but he fell well short of his own personal record of 76 hot dogs, which he had established the previous year.
Chestnut was eating through his injuries after arriving on crutches with a cast on his right foot, but he told a CNN station on Friday that he felt better than he looked despite the fact that he was eating through the pain.
Miki Sudo was victorious in the women's competition, when she ate 40 hot dogs and buns in the allotted time to claim her seventh title. After missing the women's tournament during the previous year because she was expecting, Sudo has now won eight of the past nine championships.
For the first time since 2019, the 2022 competition was held at the Nathan's Famous location on Surf Avenue in Coney Island, New York. This marked the return of the event after an absence of two years. Because of safety concerns around Covid-19, the competition has been moved for the previous two years.
According to a mythology perpetuated by Nathan's, the first competition of its sort took place on July 4, 1916. At the event, four immigrants competed against one another to demonstrate how patriotic they were.
Read More: At least 6 individuals were killed in a July 4th parade shooting in Highland Park Illinois