Minecraft Mob Vote 2022: An Easy Guide to Voting
Without the contributions and involvement of its large and continuously expanding community, Minecraft would not exist as it does. The annual Minecraft Mob Vote, which takes place every year as a part of the Minecraft Live event, is one of the most exciting ways that Minecraft players contribute to the creation of the world's most popular game.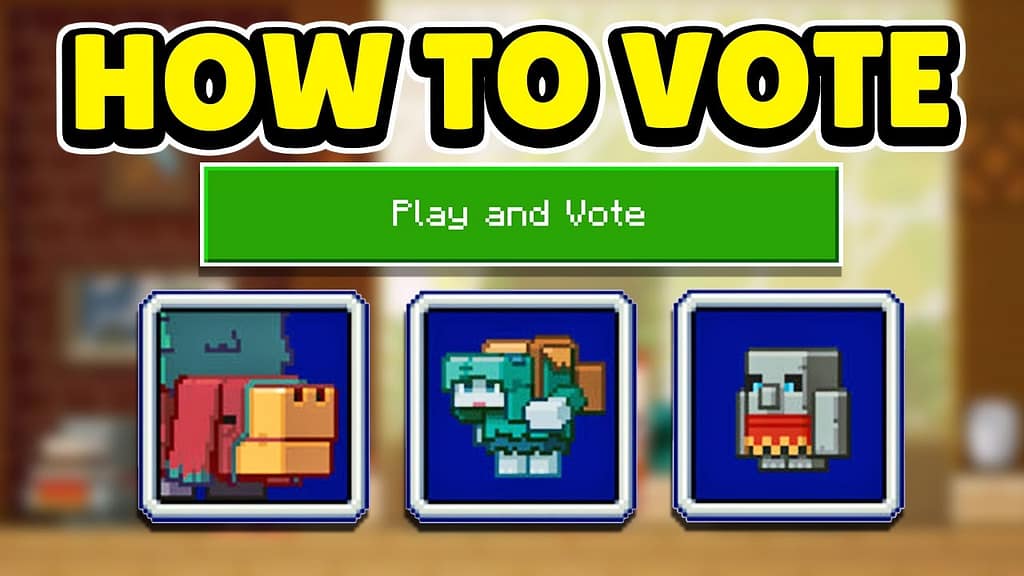 Here is all the information you need to know about Minecraft Live Mob Vote 2022, from how to vote to which mobs you may vote for to who will win when the results are revealed at Minecraft Live 2022.
Millions of people play Minecraft, and the community has grown over time to cement its place as one of the finest Xbox games ever made and one of the top-selling games of all time. Every year, at Minecraft Live, a major event that exposes the next year's intentions for the Minecraft world, Mojang Studios more directly engages the community than normal via the Minecraft Mob Vote.
Three prospective new mobs for Minecraft, each with distinctive characteristics and looks, have been unveiled by Mojang Studios as part of the Minecraft Mob Vote. By choosing their favorite among the three, the Minecraft community will finally get rid of two of the mobs and bring the winning mob to life. The Minecraft Mob Vote consistently draws a lot of interest from the community, with each faction adamantly battling for the selection of their preferred mob.
Another Minecraft Mob Vote is approaching after another year has gone. What you should know is as follows.
Players took part in polls on Twitter during earlier incarnations of the Minecraft Mob Vote, which caused an online conversation frenzy that lasted for hours. However, this procedure also raised questions about those who would vote several times, and it provided participants little time or chance to express their opinions outside of the actual event. Mojang Studios is revamping the Minecraft Mob Vote process in 2022 to be more inclusive and equitable.
On Saturday, October 15, 2022, at 11:00 a.m. CT / Noon ET / 5:00 p.m. BST, Minecraft Live 2022 will be broadcast. On Friday, October 14, 2022, at 11:00 a.m. CT / Noon ET / 5:00 p.m. BST, the Minecraft Mob Vote for this year starts precisely 24 hours before the event and continues until the show starts. The outcomes of the Minecraft Mob Vote will be revealed by Mojang Studios during Minecraft Live 2022.
The Minecraft Mob Vote 2022 is open to players through:
Players must check in with their Microsoft Account, which serves as the foundation for all Minecraft games and services, in order to vote. This serves to preserve the validity of the vote. The 24-hour voting session allows players to submit their ballots at any moment and to alter their minds as many times as they want before the polls close.
Downloading the free Mob Vote Skin Pack 2022 from the Minecraft Marketplace will allow players to represent their preferred mob during the Minecraft Live Mob Vote 2022 session. Each skin in the free bundle was inspired by a different mob from this year's mob poll. Since the skins are compatible with Minecraft: Bedrock Edition, they may be used on almost any platform.
Read More: How to Merge your Account with Overwatch 2 for Cross-Progression
THE NEW MOBS IN THE MINECRAFT LIVE MOB VOTE 2022
Three brand-new mobs are included in each Minecraft Mob Vote. Every mob in Minecraft contributes something special, and they all have distinctive looks and personalities that set them apart from "just another mob." Here is all we currently know about every mob decision, including the Sniffer, Rascal, and Tuff Golem.
The Sniffer
The Sniffer is the first candidate in the Minecraft Live Mob Vote for 2022, and it has some very intriguing qualities on top of that. The Sniffer is a long-extinct, ancient mob that formerly roamed the Overworld of Minecraft, according to Mojang Studios. However, submerged treasure boxes may contain dormant Sniffer eggs. Players can assist the Sniffers in hatching and raising them into a flourishing species once again if they bring those eggs back to the surface.
But Sniffers has more fascinating aspects than only their past. These adorable, moss-covered swarms have a keen sense of smell and a severe affinity with plants. Sniffers may locate and unearth prehistoric seeds for uncommon, exotic plants that players can nurture. That's correct, when you vote for the Sniffer, you not only receive a new mob, but also special new plants that are only accessible via the Sniffer.
The Rascal
The Rascal, a bashful, amiable mob that lives underground in dark tunnels and enjoys playing hide-and-seek with players, is the second candidate for the Minecraft Live Mob Vote 2022. According to Mojang Studios, the Rascal is a nice mob that doesn't endanger the player as the Sniffer does. This adorable creature wants to play a game with you in exchange for your time.
If you come across a Rascal while exploring one of the many cave ecosystems in Minecraft (somewhere below "y = 0"), make sure to find it and look for its hiding places. The Rascal will reward you with a considerate present if you can locate it three times before it teleports away! An enchanted iron pickaxe is one example that Mojang Studios gave, but there are likely definitely additional rewards for using the Rascal. While the Rascal is naughty, according to Mojang Studios, it will never try to trick players into dangerous situations like Warden dens.
The Tuff Golem
The Tuff Golem, a third variety of the Golem category of mobs that is completely neutral and designed to breathe fresh life and character into your homes and bases, is the last addition to the Minecraft Live Mob Vote 2022. The Tuff Golem, like Iron and Snow Golems, is created by players, but it differs from those two in a number of ways, according to Mojang Studios. For starters, Tuff Golems are often absolutely motionless, like statues.
Players may give Tuff Golems an object to exhibit even if they are statuesque. When Tuff Golems awaken from their sleep, they will travel about your base and either pick up any goods they find (if their hands are empty) or offer the item you have given them to new parts of the house. Tuff Golems will eventually finish their stroll and return to their original location to continue sleeping like statues. Finally, unlike their more aggressive siblings, Tuff Golems can really be modified in several ways. The Tuff Golems' builders will wear a cloak that matches the color of the wool block if they use it in the creation of their creatures. If players desire, they may stack Tuff Golems to make a moving shelf.
THE WINNER OF THE MINECRAFT LIVE MOB VOTE IN 2022
The anticipation leading up to and the Mob Vote itself are both thrilling, but what makes Minecraft Live results announcements so exciting? Finding out which of the three mobs will be included in a future version of Minecraft is always entertaining, particularly if the winning monster is the one you voted for. When we find out which mob won this year's Minecraft Mob Vote, we'll update this section.