How to solve 'Start menu error' after installing Windows security update in July
Security upgrades in Windows 11 often create operating system issues. The same is true for this month's security patch. Users that updated the most current version of KB5015814 reported issues with the Start menu, which is at the heart of the user experience.
The Start menu seems to hang while launching and exiting apps, according to BetaNews. Given that the Start menu is the primary method for locating and starting apps, this issue may have a substantial impact on the user's workflow.
The problem with KB5015814 extends beyond the mistake in the start menu. Many customers complained that the update could not be installed. 0x8000ffff, 0x8007007e, and 0x80073701 are the most common error codes. Some users have even reported endless boot loops. A manual reset action is normally necessary in this circumstance.
Assuming there is no long-term harm from not applying the security update, Microsoft may be lucky that it cannot be updated until an official remedy is published.
Read Also: "Does Windows need additional antivirus software?" Your Installation guide for antivirus
However, even if Microsoft is not aware of this problem, there is certainly a cause to update KB5015814. This update, like previous minor security upgrades, resolves common vulnerabilities with Windows PowerShell. It's excellent practice to keep your gadget up to date, but the issues for months are worth it.
Automatic updates are enabled by default in Windows 11. The KB5015814 update may be downloaded in the background, therefore users who do not wish to install it should exercise caution while shutting down their device. However, if KB5015814 is already installed and you are encountering the issue, you may remove it as follows.
Uninstall Windows 11 KB5015814 Update
Uninstalling updates and reverting to a prior version is significantly simpler with Windows 11.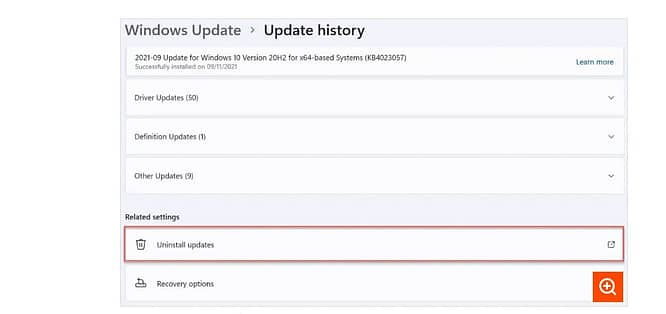 Open the Settings app and choose 'Windows Update' from the left-hand menu.
Click 'Update history' under 'Other choices.'
Scroll to the bottom of the page and select 'Remove updates' under 'Related settings.'
Select KB5015814 and click 'Remove' in the box that displays.
When the confirmation box displays, choose 'Yes,' and then restart the device to apply the modifications.
Read Also: Get a Microsoft Office Lifetime License for a Low Cost