The Rolling Stone Magazine's 100 Greatest TV Shows of All Time
This topic is intriguing. Do you just remove "The Cosby Show" from history? Rolling Stone has just accomplished it with their "updated" list of the top 100 Greatest TV Shows in history.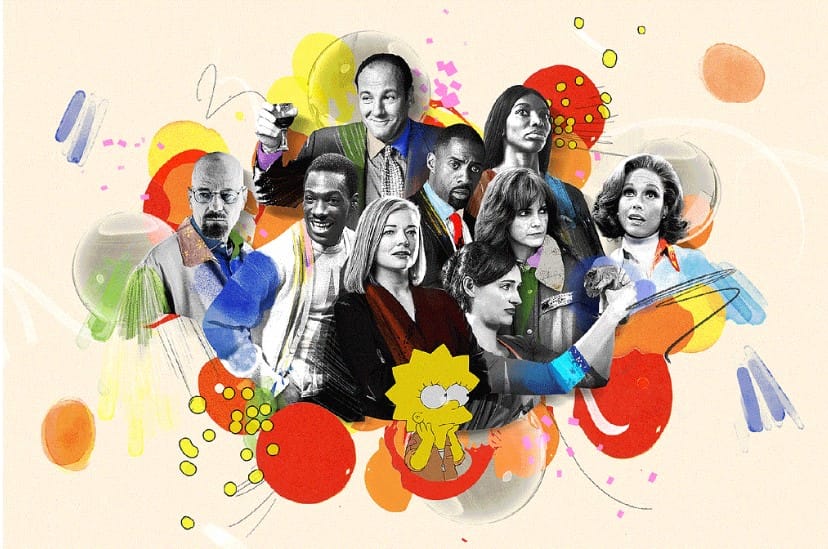 When it comes to groundbreaking and historically important television shows, "The Cosby Show" is right up there. an all-black television family that ultimately became "America's Family." It allowed for an abundance of copies. Rolling Stone is pleasantly announcing "CANCELLED." In their top 100, "Cosby" is not mentioned.
There isn't "Roseanne," another time-honored show. I really wonder why.
In addition, I find it absurd that "Louie" is completely absent, especially in light of how much "Atlanta" and "Fleabag" were affected by it. The Louie CK series was placed #22 on Rolling Stone's initial list only a few years ago. Naturally, that 2016 list was created prior to the revelation that CK was a serial masturbator.
Atlanta is my favorite show, yet it's only ranked tenth overall? Laughable. Five, "Fleabag," #inclusivity. at number 23, "I May Destroy You" Watchmen? It merely entails changing the past.
The Sopranos, The Simpsons, Seinfeld, Breaking Bad, Mad Men, and The Wire are undoubtedly all deserving of a spot in the top 10.
I cringed at the way the author described Joe Rogan in their News Radio (#94) blurb.
Now, it could be difficult to watch scenes when Joe Rogan plays the station's electrician without thinking about who and what Rogan has become.
Just to refresh your memory, "Fleabag" beat out "Mad Men" and "Seinfeld" to take sixth place in all of television history. Atlanta outperformed The Twilight Zone, Twin Peaks, All in the Family, and David Letterman. Clowns abound in our world.
Read More: 15 Best Netflix alternative free platforms!
To save you time, I'll give you the top 100 rather than linking to five pages of RS rankings:
The Sopranos
The Simpsons
Breaking Bad
The Wire
Fleabag
Seinfeld
Mad Men
Cheers
Atlanta
The Mary Tyler Moore Show
Succession
The Twilight Zone
Veep
The Americans
The Larry Sanders Show
Twin Peaks
The Leftovers
Saturday Night Live
I May Destroy You
30 Rock
All in the Family
Star Trek
Watchmen
Freaks and Geeks
MAS*H
Sesame Street
Deadwood
Friday Night Lights
Roots
Parks and Recreation
Game of Thrones
Better Call Saul
Monty Python's Flying Circus
The Office (U.S.)
Lost
I Love Lucy
Arrested Development
Hill Street Blues
Curb Your Enthusiasm
The Good Place
BoJack Horseman
Battlestar Galactica
Insecure
Late Night With David Letterman
Columbo
The West Wing
My So-Called Life
The Shield
Friends
Jeopardy!
The X-Files
Barry
The Office (U.K.)
ER
Halt and Catch Fire
Community
Russian Doll
Six Feet Under
Key & Peele
Taxi
The Underground Railroad
The Dick Van Dyke Show
South Park
The Golden Girls
Girls
The Daily Show With Jon Stewart
NYPD Blue
Fawlty Towers
Chappelle's Show
SCTV
Better Things
Good Times
Buffy the Vampire Slayer
The Honeymooners
Frasier
Justified
The Jeffersons
Sex and the City
Mr. Show with Bob and David
Band of Brothers
It's Always Sunny in Philadelphia
Party Down
I'm Alan Partridge
Fargo
Orange Is the New Black
The Bob Newhart Show
The Kids in the Hall
The Crown
The Carol Burnett Show
The Wonder Years
The Tonight Show With Johnny Carson
The Muppet Show
The Rockford Files
NewsRadio
Squid Game
Rick and Morty
The Odd Couple
The Good Fight
Oz
What We Do in the Shadows