Tropical Storm Ian's path remains uncertain as storm rapidly intensifies
Authorities and citizens in Florida were keeping a close watch on Tropical Storm Ian on Sunday as it rumbled menacingly over the Caribbean, potentially on its way to becoming a major hurricane.
Florida Gov. Ron DeSantis has issued a state of emergency and encouraged citizens to be ready for the storm that is expected to batter vast portions of the state with intense rain, strong winds, and rising waves.
According to him, current forecasts show Ian heading near Florida's west coast or panhandle, however forecasters are still unclear of its precise location.
At a press conference on Sunday, DeSantis stated, "We're going to keep monitoring the track of this storm, but it really is important to stress the degree of uncertainty that still exists. There will be pretty broad impacts throughout the state, even if you're not necessarily right in the path of the storm.
The tropical storm was predicted to become a major hurricane before making landfall in western Cuba, according to the National Hurricane Center, by late Sunday or early Monday.
Through midweek, the Florida Keys and the Florida peninsula may see flash floods and urban flooding, and later this week, significant rains may affect north Florida, the Florida panhandle, and the southeast United States. The organization warned Floridians to prepare for hurricanes and keep track of information on the storm's changing course.
The Federal Emergency Management Agency, or FEMA, and the Department of Homeland Security have been given permission to coordinate disaster relief efforts and provide aid to save lives and property after President Joe Biden also declared an emergency. Due to the hurricane, the president's planned trip to Florida on September 27 was postponed.
Grand Cayman, as well as the Cuban provinces of Isla de Juventud, Pinar del Rio, and Artemisa, were under a hurricane warning on Sunday.
Cuban state media said that emergency officials had convened to make plans for the storm's arrival and to be ready for evacuations, however as of Sunday, none had been requested. According to the National Hurricane Center's track prediction, a significant storm will make landfall early on Tuesday in the island's far west, near to some of the most renowned tobacco plantations in the nation.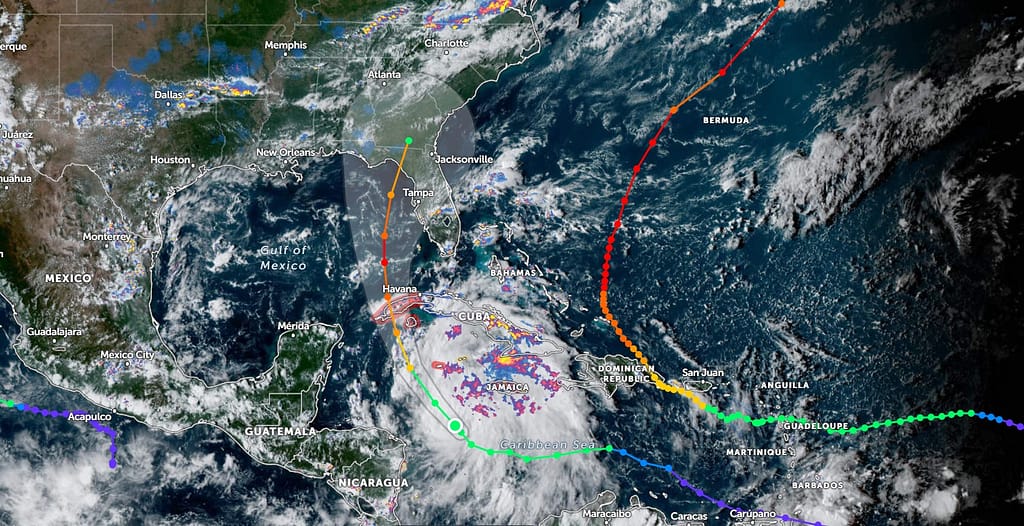 In an interview on Sunday, John Cangialosi, a senior hurricane expert at the Miami-based center, said it is unclear precisely where Ian would affect Florida the hardest. He advised locals to start preparing, including stocking up on supplies in case of power interruptions.
Stay tuned is a difficult message to convey, but it is the appropriate one at this time, said Cangialosi. "However, there is still time for residents in Florida to be ready. It's still time to purchase your materials, however I'm not asking you to hang your shutters or anything like that just yet.
In certain Florida communities where inhabitants went to stock up on supplies before the hurricane, local media have reported a consumer rush on water, generators, and other supplies.
In order to be prepared to send relief into affected regions, the state has started loading trucks with more than 2 million meals and more than 1 million gallons of water, according to Kevin Guthrie, director of the Florida Division of Emergency Management. He said that the state and municipal governments have regular contact and that resource needs are being handled.
As NASA debated whether to relocate their new moon rocket off the launch pad and into cover, they kept a careful eye on Ian's anticipated course at the Kennedy Space Center. Due to the storm, managers have already rescheduled the test flight for next week.
More than 500,000 people in two provinces lost power as a result of the violent post-tropical storm Fiona that made landfall Saturday in Nova Scotia, Atlantic Canada. It also washed homes into the water and tore off roofs.
Read Also: 15 Best Netflix alternative free platforms!