WhatsApp Voice messages are now much Better with 6 features
WhatsApp has introduced six new features to make voice messages even more useful on its platform. They've already started rolling out to users, and WhatsApp says more people should start seeing them in the coming days.
The list of new WhatsApp voice messaging features includes the following: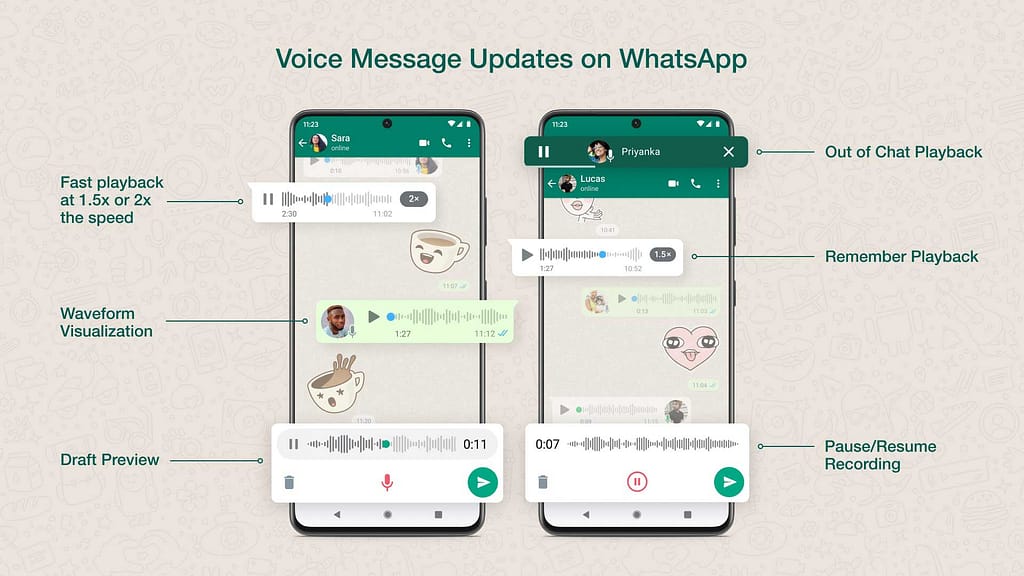 Playback outside of chat: This new feature allows you to listen to a voice message outside of a chat, just like you would watch a YouTube video shared on WhatsApp. It will allow you to read and reply to other messages while listening to the voice message that appears as a bar at the top of the application.
Pause/Resume recording: You can now pause and resume recording when sending voice messages. Previously, when you pressed the microphone button, there was no way to stop the recording if you needed to collect your thoughts before speaking.
Waveform View: This is more of a cosmetic change and shows a visual representation of the sound of the voice message to help you follow the recording.
Draft Preview: You also now have a way to preview your voice messages before you send them.
Playback Remember: If you pause while listening to a voice message, you can pick up where you left off when you return to chat.
Fast playback of forwarded messages: If you're in a hurry, you can now play back voice messages at 1.5x or 2x speeds for faster listening on both regular and forwarded messages.
WhatsApp says that users exchange seven billion voice messages daily on its platform. This should make these new voice messaging features quite popular on the platform. Have you tried them?